The
ball bearings are made ​​to average speeds of 1,000 to 20,000 revolutions / minute depending on
the
Brooch explosio
them
.
The
bearings will be more effective than
the
self-lubricating bushings to the usage limit charge. Above the CMU
the
ball will tend to deform. The working principle is to reduce
the
friction by reducing the contact point through the ball (instead of some cm² area is reduced to approximately mm²).
As against a small area of ​​about mm² suffers any charge and will be a limit before deformation reached faster.
The

self-lubricating bushings:
Made of bronze, copper, brass, they have the property not to join (seize) other metals (steel, aluminum).
They will yield reduced compared to ball bearings, but the limits of use of the ball bearing

the

rings will go much higher expense.

(Eg

the

cars are on ball bearings for

the

truck load is too great and the system goes on self-lubricated bushings because the load is too high for balls (except to have balls quadruple volume but this would be more interesting)).
Different performance simulation table

rollers

can be used in slackline.
The following calculations represent a theoretical value, in reality supplied forces vary and are not regular in time.
Please note the total sums of the sheave blocker and is only valid with a referral. Without reference that total is divided by the yield of the blocker.
Taking no competing brand in reference we will base on
the
returns provided by Petzl and Wichard. Please note all
the
brands do not have the same output quality.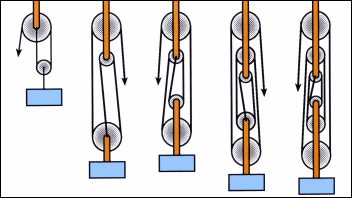 Pulley Petzl ball bearings used as reference:
pulley sheave minder 51mm 97% yield
pulley sheave rescue of 38 mm 95% yield
pulley sheave Prussik 25 mm (axis of 10) 91% yield
Rope blockers as reference:
Protraxion Petzl sheave 38 mm (or pulley minder with Machard) yield 95%
Petzl Micro traxion 28 mm (or pulley rescue with Machard) 91% yield
Kong Robot 35mm 69% yield
Grigri 2 Petzl 52% yield
Gigi plate 48%
For four pulleys, we take the example of two double blocks put together a multiplier Mooring, additional performance loss is added because of the strings rubbing them on the Equalization of the system for the pulleys remain straight.