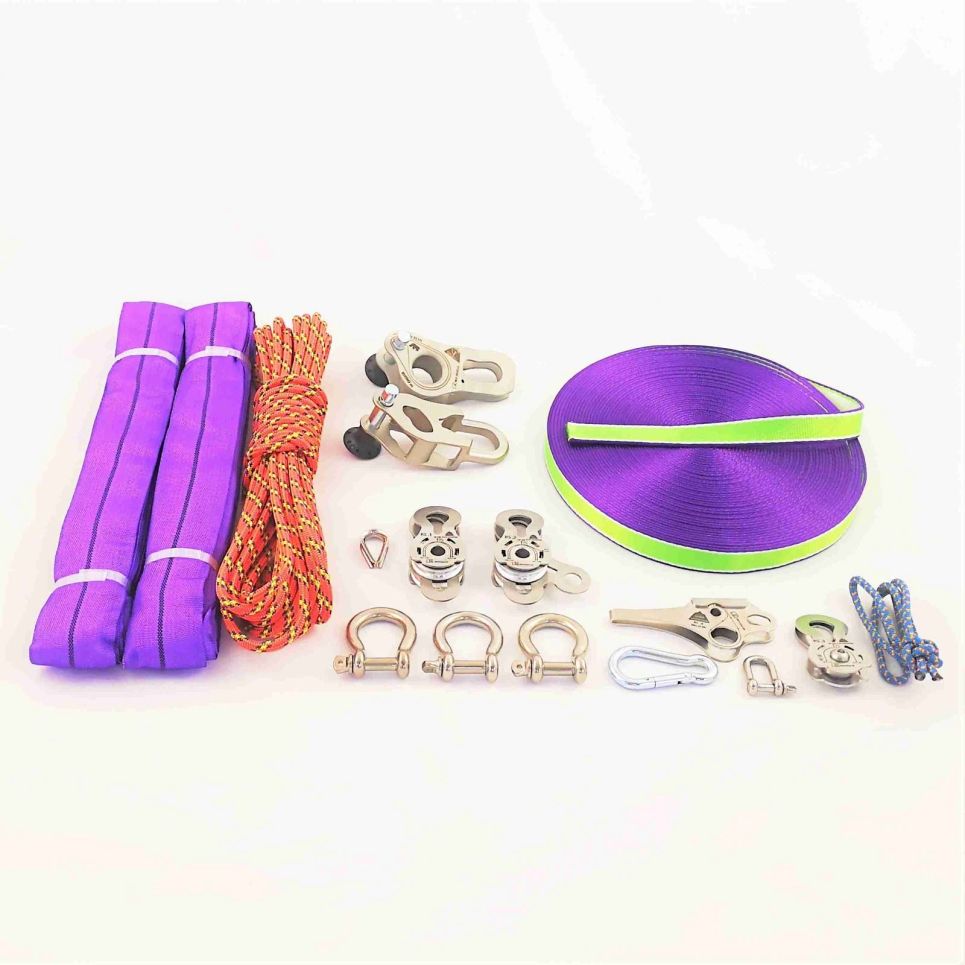 zoom_in
The Kolibri kit is made for the practice of the longline / highline with the lowest weight while maintaining a very high efficiency system and without reducing resistance thanks to the design of the RS 100% stainless steel tension system.
The Kolibri kit, small, powerful and resistant. 
Made in France

Worldwide delivery
Dhl, Fedex, Ups, Chronopost....

Visa Mastercard Paypal...
Payment in 4 x via Paypal

personalized advice
Need advice? You can write to us.

Made in France
Brand Slack Mountain 100 % made in france
Description
Slack Mountain products are entirely made in France.
It is on this material that our longliners and highliners spend distances of more than 100 m.
Its strength: the RS stainless steel pulleys are much lighter than conventional pulleys and its high-efficiency ball bearings thanks to their 40 mm sheave allowing a 93.5% efficiency, making them the best stainless steel pulleys. term of report weight / yield.
And the RS2 with its remote eyelet allows you to connect your rope blocker without creating friction inside the haul.
Strap Lock Level:
The stainless steel rhino blocker of 60 kN will allow you to tighten all the longlines with its sheave of 35 mm it will preserve your strap up to 96% of the resistance of the strap. And big advantage it will allow you to claim your strap. Connector compatible from 10 mm to 20 mm.
The Frog, the ultra-light, high-strength, ultra-light stainless steel blocker weighing less than 300 g, is compatible with any connector from 8 mm to 20 mm and even live slings with lark heads. Its specially designed sheave for the slackline is equivalent to a sheave of 65 mm and allows a resistance of the strap up to 98% and especially to facilitate even more the mode ravalable.
You will be able throughout your progression to add accessories, climbing handles, tibloc ...
The Kolibri kit contains:
2 frog 60 kN
2 slack mountain double blocks (RS1 and RS2) 50 kN
2 slings 1t 2m 70 kN
3 galvanized steel shackles 1.5 t
1 static rope 7mm 20m 
1 RS 20 kN brake with 8 mm firearm carabiner 
1 shackle 6mm stainless steel
1 heart pod (the rope knot must be closer to avoid going out)
1 machard
1 single RS 3 pulley.
1 French manual with diagram
option without strap or with 50m or 100m of choice of strap
Weight without strap: 2930 g
Non contractual photo
Do not cut a path, mark your line.
Remember to put tree protection both for trees and for your material, (thick fabrics, pieces of carpet, ... can also be effective and it recycles)
When using above water rinse your equipment with fresh water and dry in the shade even for use in lake or pool.
Slack Mountain

No customer reviews for the moment.