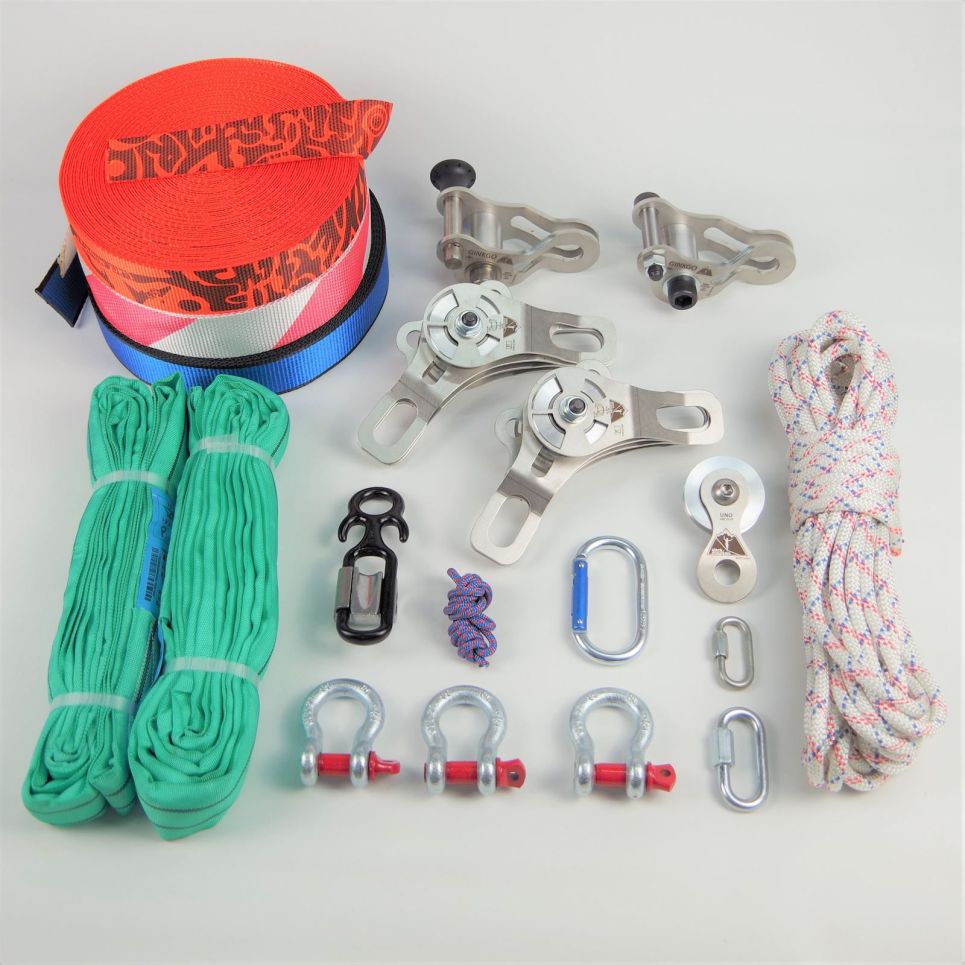 zoom_in
Want to put yourself into orbit, the Apollo kit is made for you. With 30 m Wallaby, Popart or Awa-line webbing and Triceratops pulley system and Ginkgo mini tension will not be your limit and safety will be ensured. The kit used by our pro trickliners.
The Slack Mountain products are manufactured entirely in France.

Worldwide delivery
Dhl, Fedex, Ups, Chronopost....

Visa Mastercard Paypal...
Payment in 4 x via Paypal

personalized advice
Need advice? You can write to us.

Made in France
Brand Slack Mountain 100 % made in france
Description
The kit relies on the triple Tricératops pulleys, pulleys made of stainless steel with high strength steel axis, and high efficiency ball bearing with a sheave 60 mm which creates an efficiency of 97%, making it the best triple pulley on the market. The strength of 80 kN will ensure safe tricklining. And his double of axis attach points is designed for your rope break and prevents friction of the ropes.
Ginkgo mini is designed to preserve the strength of your webbing with its main diverter of 33 mm and its front pin of 16 mm. The resistance is 105 kN (much more than the usual ratchet).
You can throughout your progression add accessories, ascenders, change of rope blocker, all to optimize your kit as you wish.
Pack including:
30m Wallaby, Pop-art
2 triceratops
2 Ginkgo
3 shackles WLL 2t
1 rope 25 m 9 mm (or 10.5 mm according to disponibility)
2 slings WLL 1t 2m
1 pulley UNO
1 steel carabiner
1 prussik
1 Plaquette Gigi, Robot or Pro traxion
1 8 mm link
1 link 6 mm
weight: 13.2 kg
French leaflet with scheme
Possibility soft-release: 5.5m webbing with one extra shackle 3t250
Non contractual photo
In Jumpline backups are always essential. Always make them and read the instructions.
Do not use higher than 100 cm. Although it is composed of material intended for use in highline, highline requiring additional equipment as well as Particular skills, DO NOT USE IN HIGHLINE.
Do not cut pathway, mark your line.
Depending on its use (professional, amateur) the equipment must be renewed so as not to exceed a number of shocks of about 200,000 this will nevertheless depend on the weight of the slacker, the installation and the amplitude taken by the practitioner
Remember to put the protection of trees both for trees but also for your equipment (heavy fabrics, carpet pieces, ... can also be effective and found by recycling).
If use above water rinse your equipment with fresh water and let dry in shade even for uses in the lakes or pool.
Slack Mountain

You might also like 1 other product seleted for you
In the same category
12 other products seleted for you
No customer reviews for the moment.