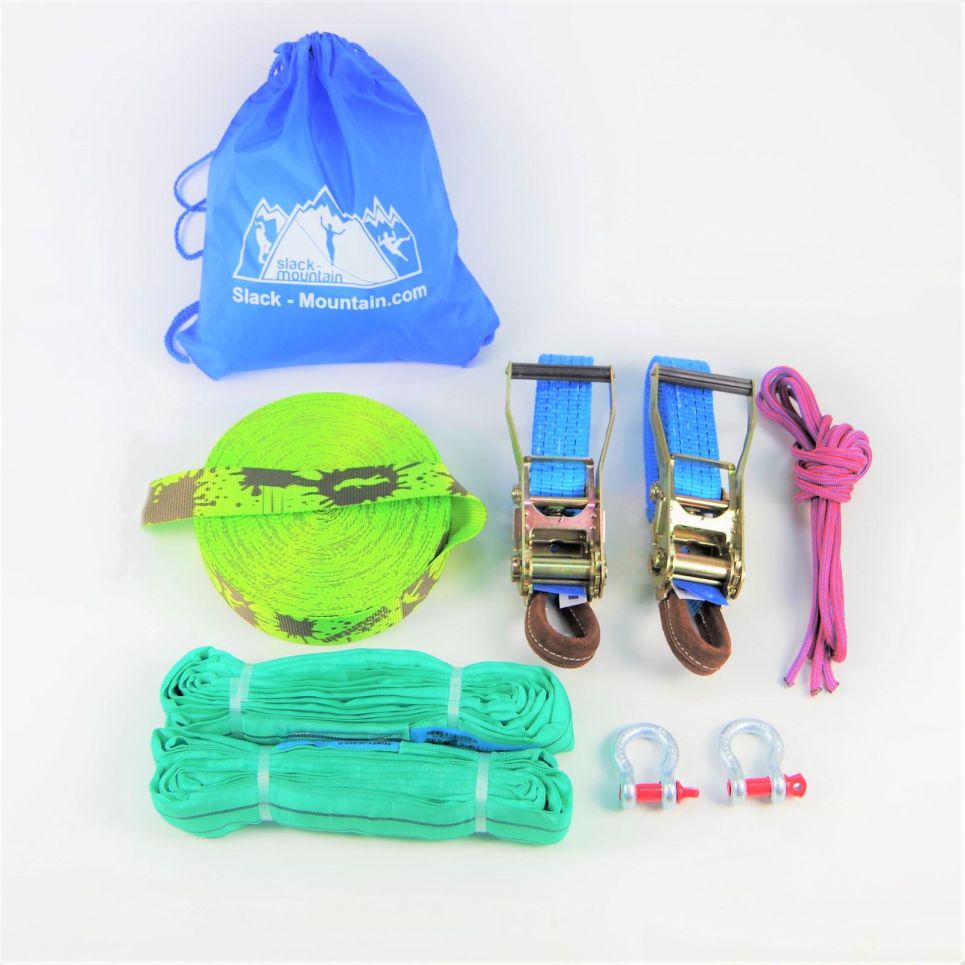 zoom_in
The kit for trickliner wanting a kit Ratchet or MaxiRatchet easy to set up. Its webbing choices ranges from accessible lines to expert level. The direct installation with slings and shackles provides more security than girth hitch.
All Slack Mountain products are manufactured in France

Worldwide delivery
Dhl, Fedex, Ups, Chronopost....

Visa Mastercard Paypal...
Payment in 4 x via Paypal

personalized advice
Need advice? You can write to us.

Made in France
Brand Slack Mountain 100 % made in france
Description
Awa-line and Pop-art  webbing are easier to tension with the ratchets, the Wallaby being a thick webbing the pretension must be done correctl.
Tested and approved by our Pro team.

Kit Jumpline ratchet for anyone who wants a simplified system without pulleys.

-20m webbing, 2 simple ratchets, 2 shackles 2 tons, 2 slings 1 tons 2m. + back up ropes

-25m webbing, 2 simple ratchets, 2 shackles 2 tons, 2 slings 1 tons 2m. + back up ropes

-30m webbing, 2 ratchets one extra and one simple, 2 shackles 2 tons, 2 slings 1 tons 2m. + back up ropes

Details of the products on their respective webpage.

Choice of webbing:

Awa-line, Pop art, pop-art white and Wallaby green

French leaflet with set-up scheme

Weight: 7kg, 8kg and 8.5kg

With soft-release and extra shackles 2 t / without lasso / With ratchet slip control remplace standard ratchet

All the kits are supplied with 2x2m safety ropes to back up the ratchets, this does not dispense of doing the webbing back-up.

The use of a soft-release makes it possible to increase the lifetime of the ratchets.

Recycled pieces of firehose to be used in sling protection, to be used in sheath by sliding the sling inside thanks to the backup rope. We chose this solution for two reasons: first, the abrasion resistance of a fire hose is greater than a protective felt shaft; The second, the pipe is recycled which avoids additional consumption.

Attention in Trickline always build your back up, trickline is a dangerous sport that can result in serious injury or death. Read the manual carefully.

To improve your kit it will be necessary to upgrade to a triple pulley system and Ginkgo weblocks to be able to put more tension
Slack Mountain

You might also like 2 other products seleted for you
In the same category
12 other products seleted for you
No customer reviews for the moment.