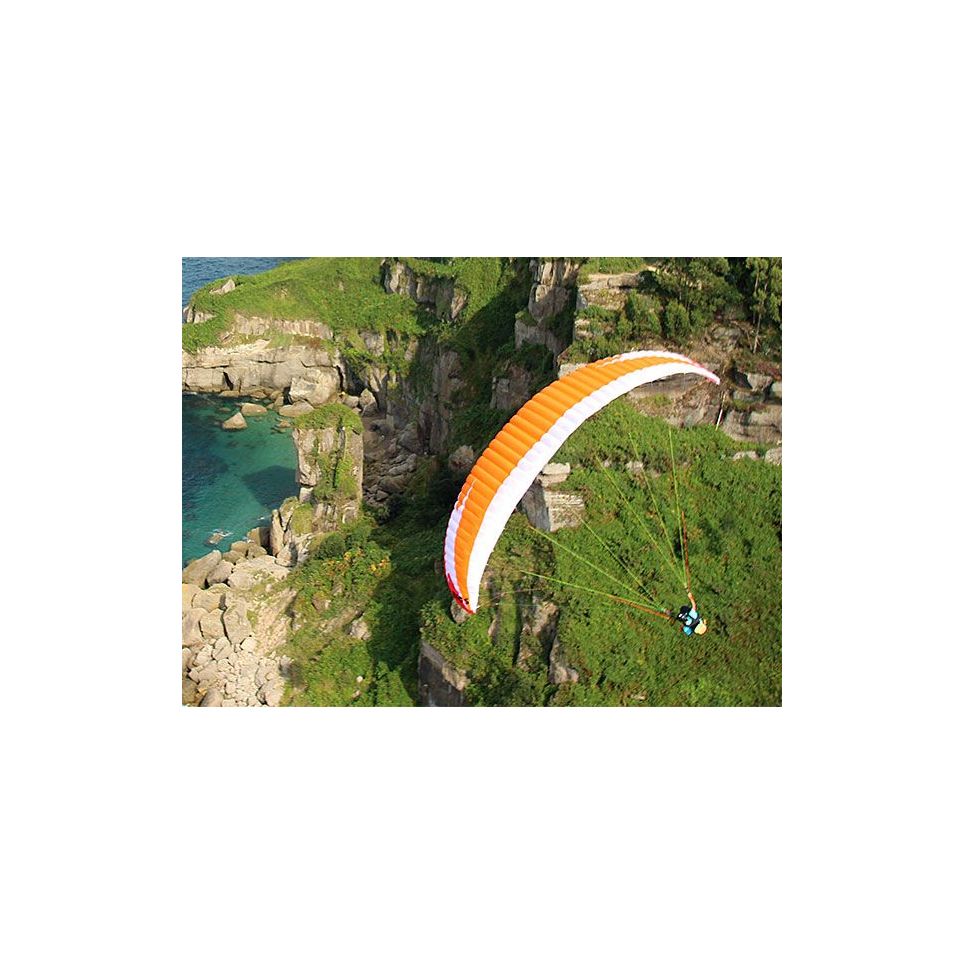 zoom_in
The intermediate wing, EN-B approved. With a moderate aspect ratio, it is intended for people who want to start and progress in this sport by choosing an easy-to-access wing with performance at the highest level in the category.
For this, we have designed a very versatile wing: easy to inflate thanks to its reduced weight and its crossed rods which form a small shark nose and leave the leading edge pre-inflated at take-off. At trimmed speed, the glide is similar to that of the B+ wings, but its level of safety is much higher.

Worldwide delivery
Delivery with Fedex, DHL, UPS...

Visa Mastercard Paypal...
Payment in 4 x via Paypal

personalized advice
Need advice? You can write to us.

French shop
Located near Gourdon to carry out all your tests
Description
En cas de turbulence, la Bios se comporte très bien, même à la vitesse maximale, grâce à une répartition de la pression interne qui permet à la voile de toujours être gonflée en évitant des fermetures. L'accélérateur est court et doux, et lorsque le vent souffle fort, vous pouvez avancer contre la brise en maintenant une bonne finesse qui vous permettra d'atteindre l'atterrissage.

C'est une voile légère très polyvalente et tout terrain, car avec les élévateurs en Dynema (en option) et les soft links, les petites tailles n'atteignent pas 4 kg et les suivantes restent à quatre kilos et demi, parfaitement compatible pour un usage Fly and Hike et vols de montagne.

Grâce à son virage rapide et directe et à ses bonnes performances, nous pouvons garantir que le Bios vous permettra de profiter de chaque vol comme si c'était la première fois.

> Homologuée EN-B, mais elle est très accessible et facile à utiliser, vous permettant de commencer et progresser en vols thermiques et vols de distance avec une grande sécurité.

> Élévateurs à trois bandes avec un accélérateur direct et efficace pour exploiter toute la plage de vitesse.

> Joncs croisés en bord d'attaque pour préformer la voile au gonflage et améliorer la pression interne.

> Un frein avec une géométrie unique pour obtenir un virage facile et peu physique qui permet de centrer des thermiques étroits et hachés.

> Made in Skytex : 40/38 grammes en extrados et 32 grammes en intrados pour une grande durabilité et l'assurance d'une tenue dans le temps favorisant la revente sur le marché de l'occasion.


Windtech

In the same category
10 other products seleted for you