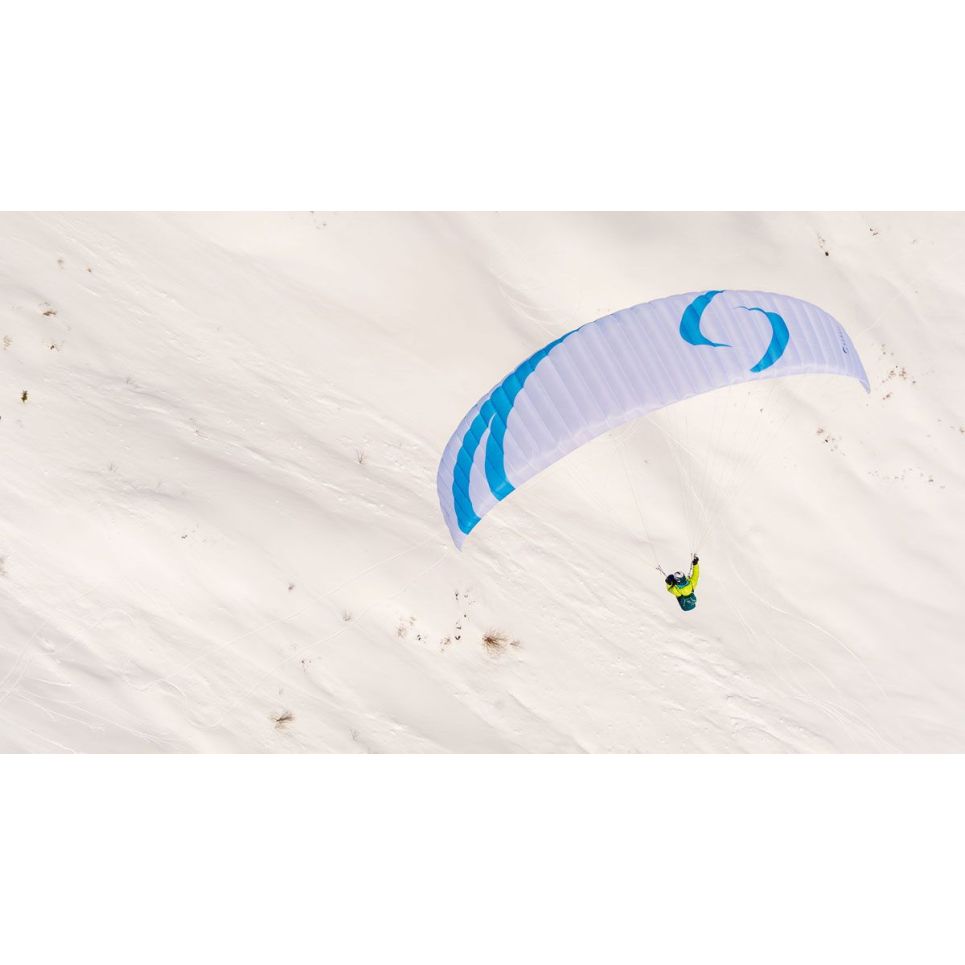 zoom_in
Eiko 2 voile light EN A, B ou C selon la taille
Voile de montagne ultra légère destinée aux pilotes à la recherche de légèreté et compacité.

Worldwide delivery
Delivery with Fedex, DHL, UPS...

Visa Mastercard Paypal...
Payment in 4 x via Paypal

personalized advice
Need advice? You can write to us.

French shop
Located near Gourdon to carry out all your tests
Description
En petite taille en haut de fourchette de PTV, elle ravira les pilotes à la recherche de vitesse, autant en vol montagne qu'en soaring dans du vent fort.
En utilisation en milieu ou bas de fourchette de PTV elle s'adresse à un éventail plus large de pilotes. Inspirée de l'Eona 3, sa facilité, sa stabilité, son gonflage et une prise en charge rapide apportent une efficacité rassurante : idéal pour progresser grâce à une grande capacité d'adaptation et un caractère tout-terrain.
Le gonflage particulièrement intuitif et efficace sera très apprécié aussi bien par les pilotes en montagne sur des décollages dans des conditions parfois complexes que par les pilotes moins expérimentés utilisant l'Eiko 2 comme voile de progression.
En vue d'une utilisation en haute-montagne , des petites attaches en hypalon sont cousues sur l'extrados. Elles permettent de connecter des picots pour éviter le glissement de la voile et faciliter le décollage dans les pentes raides ou enneigées. Il suffit de les planter dans le sol pour maintenir l'aile en place. Ils resteront évidemment solidaires de la voile pour ne rien laisser en montagne.
| EIKO 2 | 16 | 19 | 21 | 23 | 26 |
| --- | --- | --- | --- | --- | --- |
| Nombre de cellules | 38 | 38 | 38 | 38 | 38 |
| Surface à plat (m²) | 16 | 19 | 21 | 23 | 26 |
| Envergure (m) | 8,76 | 9,55 | 10,04 | 10,51 | 11,17 |
| Corde (m) | 2,27 | 2,47 | 2,6 | 2,72 | 2,89 |
| Allongement à plat | 4,8 | 4,8 | 4,8 | 4,8 | 4,8 |
| Surface projetée (m²) | 13,56 | 16,1 | 17,8 | 19,49 | 22,03 |
| Envergure projetée (m) | 6,93 | 7,55 | 7,94 | 8,31 | 8,84 |
| Allongement projeté | 3,54 | 3,54 | 3,54 | 3,54 | 3,54 |
| Poids voile (kg) | 2,2 | 2,45 | 2,66 | 2,87 | 3,14 |
| Plage Poids Total Volant (kg) | 50-90 | 50-90 | 60-85 | 70-95 | 80-110 |
| Homologation | EN – LTF C | EN – LTF B | EN – LTF A | EN – LTF A | EN – LTF A |
| Nombre d'élévateurs | 3+1 | 3+1 | 3+1 | 3+1 | 3+1 |
Supair

In the same category
10 other products seleted for you