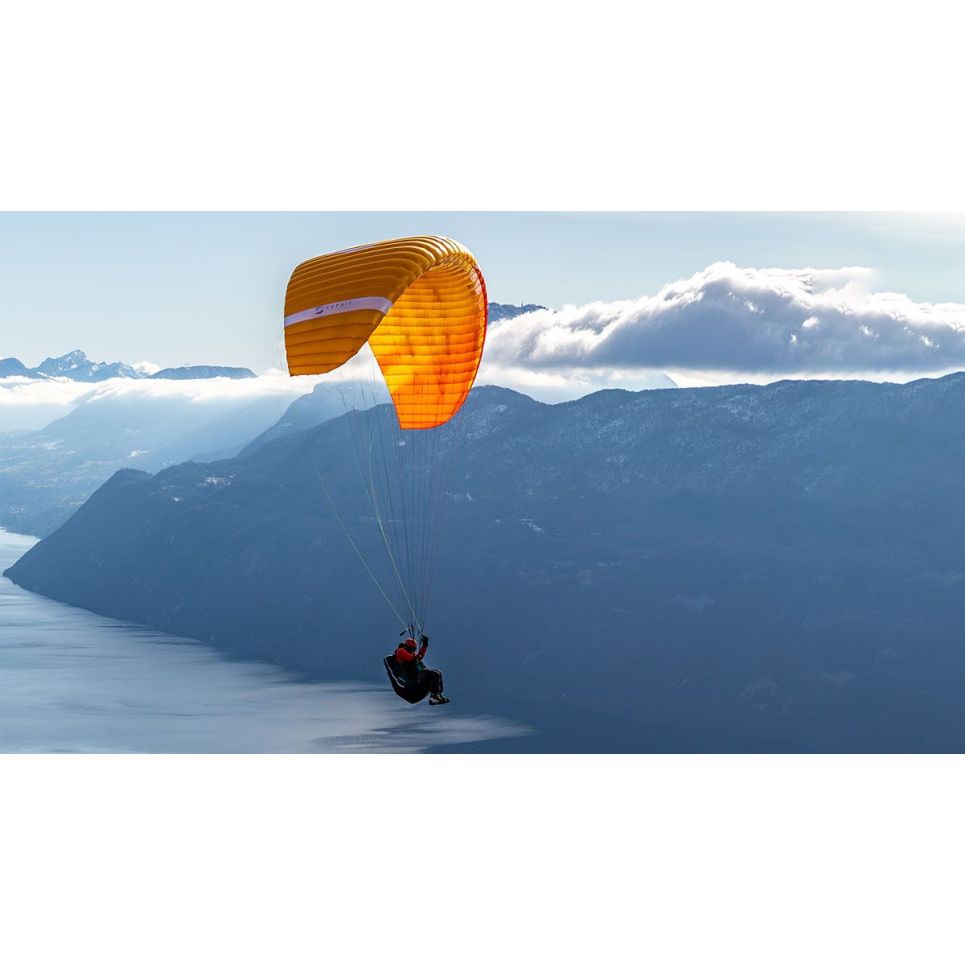 zoom_in
L'Eona 3 est la voile idéale pour débuter en parapente. A la fois sûre, ludique et robuste, elle sera votre fidèle alliée pour découvrir les joies du vol.

Worldwide delivery
Delivery with Fedex, DHL, UPS...

Visa Mastercard Paypal...
Payment in 4 x via Paypal

personalized advice
Need advice? You can write to us.

French shop
Located near Gourdon to carry out all your tests
Description
L'Eona 3 est la voile école de SUPAIR. Notre équipe de conception s'est appuyée sur les retours des écoles utilisant l'EONA 2 pour proposer une voile qui corresponde au mieux aux attentes des professionnels.
Pensée pour durer, elle bénéficie de matériaux fiables et robustes. Notre volonté a été de pousser au maximum la simplification du modèle en diminuant le nombre de suspentes et en privilégiant son ergonomie. Très stable sur les axes de tangage et de roulis, L'Eona 3 est sécurisante pour son pilote et facilement prévisible pour le moniteur.
En utilisation école, le gonflage aisé, sans point dur ni dépassement, associé à une excellente prise en charge met immédiatement les élèves en confiance et les accompagne tout au long de leur progression pour les mener vers la réussite.
Comme sur l'EONA 2 les élévateurs possèdent un code couleur pour une identification simple des côtés gauche et droite. Les élévateurs sont également équipés du kit oreilles ergonomique de l'EONA.
| EONA 3 | XS | S | M | M/L | L |
| --- | --- | --- | --- | --- | --- |
| Nombre de cellules | 38 | 38 | 38 | 38 | 38 |
| Surface à plat (m²) | 21,8 | 24 | 26.60 | 28.70 | 31 |
| Envergure (m) | 10.23 | 10.73 | 11.3 | 11.74 | 12.2 |
| Corde (m) | 2.65 | 2.78 | 2.93 | 3.04 | 3.16 |
| Allongement à plat | 4.8 | 4.8 | 4.8 | 4.8 | 4.8 |
| Surface projetée (m²) | 18.59 | 20.46 | 22.68 | 24.47 | 26.43 |
| Envergure projetée (m) | 8.14 | 8.54 | 8.99 | 9.34 | 9.7 |
| Allongement projeté | 3.56 | 3.56 | 3.56 | 3.56 | 3.56 |
| Poids voile (kg) | 4.4 | 4.7 | 5 | 5.4 | 5.7 |
| Plage Poids Total Volant (kg) | 50-70 | 65-85 | 80-105 | 90-115 | 105-130 |
| Vitesse bras haut (km/h) | 38 | 38 | 38 | 38 | 38 |
| Vitesse maxi (km/h) | 48 | 48 | 48 | 48 | 48 |
| Homologation | EN 926 – 1 et 2 & LTF 91/09 –  Classe A | EN 926 – 1 et 2 & LTF 91/09 –  Classe A | EN 926 – 1 et 2 & LTF 91/09 –  Classe A | EN 926 – 1 et 2 & LTF 91/09 –  Classe A | EN 926 – 1 et 2 & LTF 91/09 –  Classe A |
| Nombre d'élévateurs | 3 | 3 | 3 | 3 | 3 |
| Trim | non | non | non | non | non |
Supair

In the same category
10 other products seleted for you