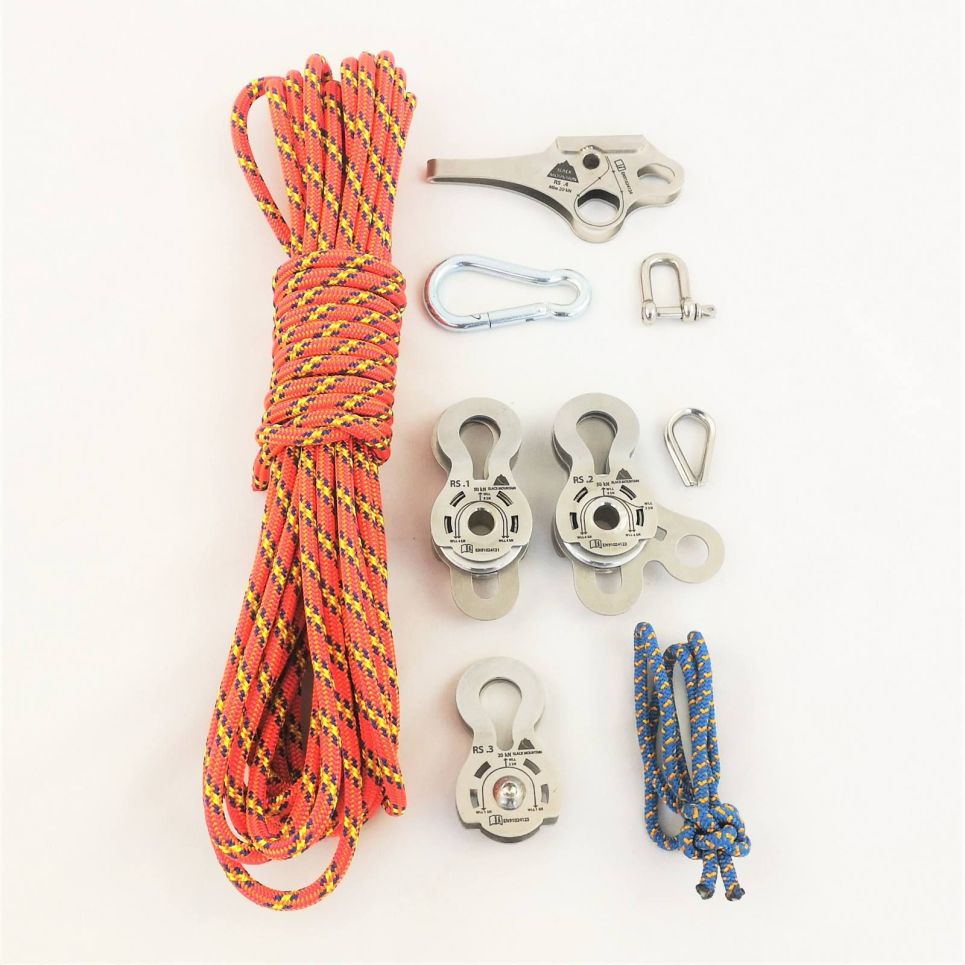 zoom_in
The Minis RS  Pack will be the lightest stainless steel system in the slackline, with 510 g on the scale (2 Mini Double RS, RS Brake and RS Reference). With its high-performance ball bearings and 40 mm grooved sheaves you'll reach 94.7% efficiency. And thanks to its RS handle brake you can easily relax.
100% Made in France

Worldwide delivery
Dhl, Fedex, Ups, Chronopost....

Visa Mastercard Paypal...
Payment in 4 x via Paypal

personalized advice
Need advice? You can write to us.

Made in France
Brand Slack Mountain 100 % made in france
Description
The pack is available with or without rope. 
Package Content:
-2 Mini RS (RS1 and RS2) 50 kN
-1 Brake RS 20 kN
-1 firefighter karabiner 8 mm
-1 Pulley Return (RS4) 20 kN
-1 stainless steel shackle 6 mm 18 kN
-1 stainless steel lug
-1 machard 
optional :
-without rope, 12m rope 7mm, 25m rope 7mm
-Lot of 2 RS pulley (RS1 and RS2 with remote eyelet)
Ultra compact and light pulleys (9 cm - 3 cm - 4.4 cm)
Compatible with 6 to 8 mm rope
Weight: 162 g (RS1) 183 g (RS2)
CMU: 8 KN
CR: 50 kN
304l stainless steel flange
40 mm sheave in mechanical aluminum
Waterproof ball bearing 6002-2rs
RS2 Remote eyelet: CMU 2 kN
Remote eyelet dimension: 13 mm
Hand-welded assembly Mini Rs approved in independent laboratory.
Compatible with quick links, shackles and carabiner up to 16 mm. The use of stainless steel connector is strongly recommended to avoid rapid wear of all softer metals.
100% Made in France (design, cutting, machining, assembly, engraving)
-Frein RS
100% stainless steel 
It is compatible with ropes from 6mm to 8mm, 6mm ropes may tend to slide in the brake depending on the rope pattern, and the 8mm do the reverse. The ideal is the 7 mm ropes that allow a better grip than the 6 mm.
CMU: 2 kN
CR: 20 kN
weight: 83 g
-Pulse RS referral
Compatible 6 to 8 mm
CMU: 1 kN
CR: 20 kN
weight 82 g
Made in France 
Patent at INPI
Slack Mountain

You might also like 2 other products seleted for you
In the same category
12 other products seleted for you
No customer reviews for the moment.