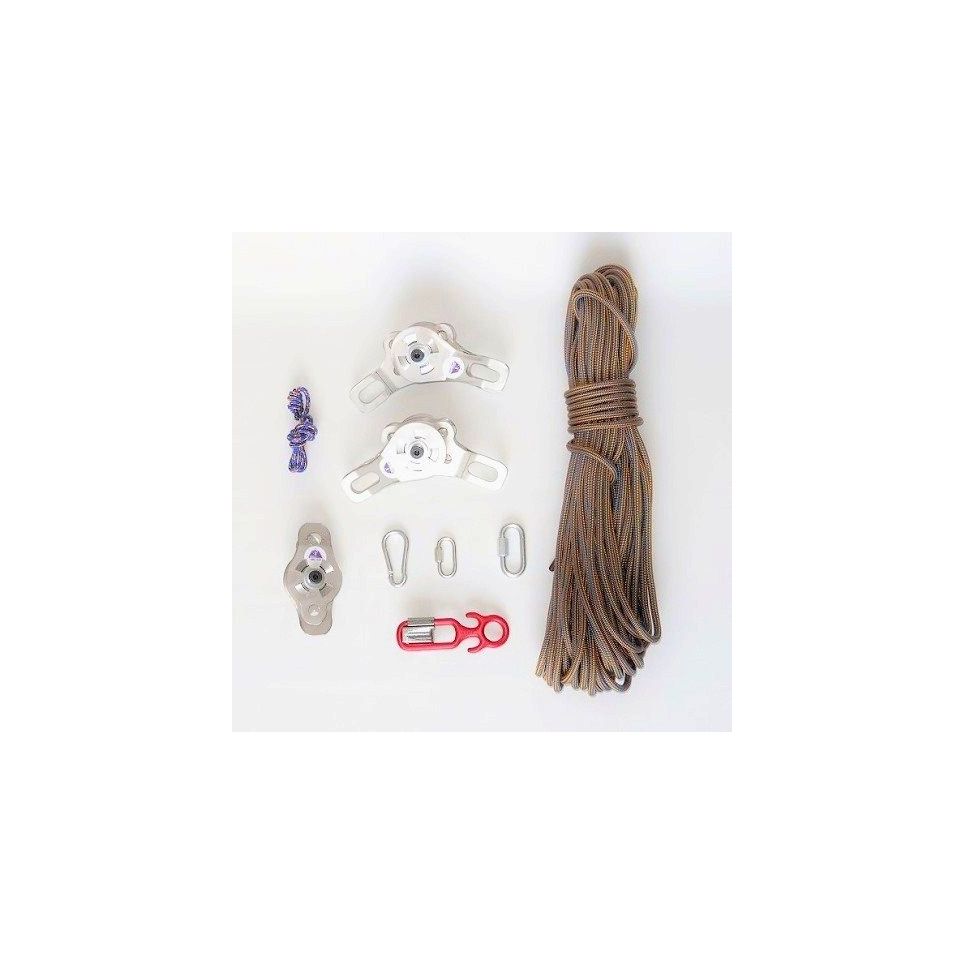 zoom_in
Tensioning system SlackMountain. The ultimate tensioning system for your longlines and trickline. With rope-break and multiplier.

Composed of 2 pulleys Triceratops, 10.5 mm rope, 2 quicklink of 8 mm, 1 Plaquette Gigi or Robot (rope-break), 1 prussik, 1 carabiner (multiplier), and a pulley single.

With its weight of 3.65 kg you can transport it everywhere.

Worldwide delivery
Dhl, Fedex, Ups, Chronopost....

Visa Mastercard Paypal...
Payment in 4 x via Paypal

personalized advice
Need advice? You can write to us.

Made in France
Brand Slack Mountain 100 % made in france
Description
Weight : 3.65kg (25m) 4,93kg (50m)
Triceratops
Asymmetric plates allowing up to 3 anchor points (in star mode),
Rope 8 mm to 10.5 mm
Compatible with shackles up to 20 mm
WLL : 16 kN
MBS : 80 kN
During the MECASEM tests (independent laboratory) minimal breaking happened at 104.83kN with the rope breaking first. The pulley was not destroyed. (certificat attached)
WLL asymmetric anchor point : 5 kN (10kN double) breaking strength 30kN (60 kN double)
Plates in stainless steel 304l
Axis high strength steel 12.9
Pulley 60 mm mechanical aluminium
Sealed ball bearings 6301-2rs
Always use the 4 plates on the anchor point.
Made in France
Rope 10.5 mm 65 g/m
Lenght 25m ou 50m
For detensioning, use the technique shown in the video. (use the prussik to unlock the ROBOT, and control speed with a half hitch)
https://www.youtube.com/watch?v=cFID7yi8yVw
These are not safety equipment.
Slack Mountain

Charge Maximale d'Utilisation (CMU)

16 kN

Charge de Rupture (CR)

80 kN
In the same category
12 other products seleted for you
No customer reviews for the moment.