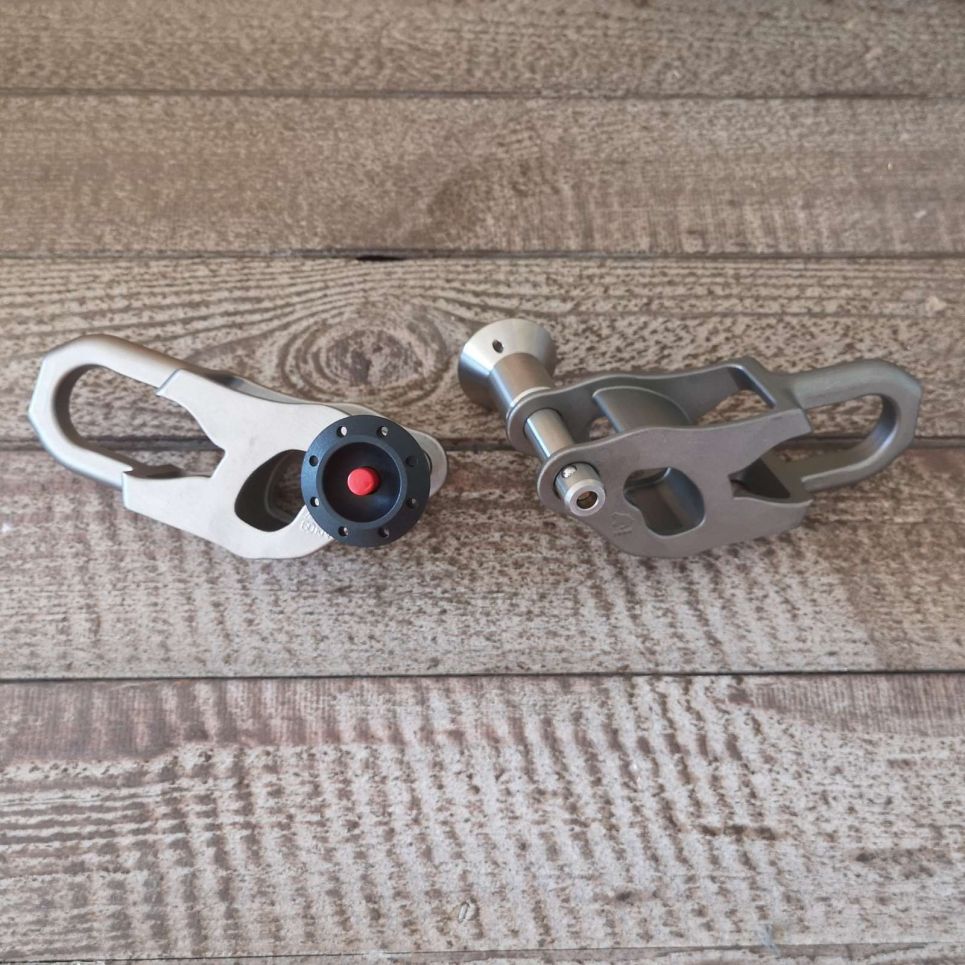 zoom_in
Paire of Frogs
The Frog is the first webbing anchor in high-strength stainless steel,  lightweight for a MBS of 60 kN, compatible with all connectors from 8 mm to 20 mm and even with slings. And the shape of the main diverter allows you to use your webbing to 98% of its strength.
Of course made in France.

Worldwide delivery
Dhl, Fedex, Ups, Chronopost....

Visa Mastercard Paypal...
Payment in 4 x via Paypal

personalized advice
Need advice? You can write to us.

Made in France
Brand Slack Mountain 100 % made in france
Description
The Frog is the latest generation of webbing anchor, a design that enables maximum flexibility, strength and safety and minimum weight ever achieved thanks to high strength steel.
With its minimal size, the most demanding longliners and Highliners will have no more excuses.
Its 17-4 Stainless steel single piece design reduces mechanical stress known in weblocks and especially avoids problems we have with Aluminium (7075, 6061, ..)
Another revolution is its large attachement point at the back compatible with all connectors 8 to 20 mm, especially 20 mm shackles.
You can use it with all 2.5 cm webbing on the market and even a double Diablo.
The biggest innovation is the elimination of a conventional central diverter with screws.
2 years in development for multiple innovation.
-For webbing from 20 mm to 27 mm max
-Webbing anchor made with stainless steel injection molding 17-4 high strength, designed to distribute the vibrational energy in the webbing (wind, surf, bounce ...)
-Crescent shaped main diverter to keep 98% of the webbing strength
-Compatible with all connectors from 8 mm to 20 mm (6mm soft shackles) (watch the CMU always respect the weakest component, so all connector under 12mm) compatible with sling 1 ton or more.
-Compatible Webbing from 20 to 27 mm and a thickness of 10 mm maximum, or doubled for webbing up to 5 mm thick (all slack mountain webbings may be doubled)
-Weight 300 g for quickpin with plastic black handle (like Rhino) +-10g
-MBS Frog and pin 60 kN
-WLL (working load limite) 15 kN
-Made in France
-Tested By independent laboratory MECASEM. test certificate in the documents (the pin will be the first party to break at 60 kN)
Stainless pin 126g
THE PHOTOS ARE NOT CONTRACTUAL
Slack Mountain

You might also like 2 other products seleted for you
In the same category
8 other products seleted for you
No customer reviews for the moment.